Create tile mosaic with Mosaic Creator
Do you want to create tile mosaic from glass, ceramics, natural stone, quilts or paper?
Do you have some master image or did you need random mosaic filling?
How can I turn a photo into a tile mosaic?
You can use Mosaic Creator as supporting tool. Calculate and preview your tile mosaic.
DOWNLOAD Mosaic Creator FREE TRIAL VERSION
This is sample result of mosaic design. You may use any source image and images of cell images as tile images. Cell images may be in any size. Each tile should be in separated picture file. Use picture file names relative to tile color or type. There is recommended stay in identification that uses your tile vendor. You can set any size of result mosaic.
See sample ROSE tile mosaic. For details use controls on the bottom.
What you can do with Mosaic Creator as tile mosaic tool?
Convert any image into a mosaic tile design
Set any mosaic dimensions (Size calculator included)
use scanned images of tiles (any material like glass, ceramics, stones, quilts, paper)
Automatic filling from selected tile pictures
Control tile repetition control
Optimize result price
Export high quality tile mosaic image
Set any grout color and control gap size
Render random pattern design
Works well for pools, kitchens, bathrooms, countertops, floors
Prints a list of used tiles
Prints mosaic design in real size
Prints a tile grid, grid with tile numbers
Render mosaic design with tile numbers
Prints an estimate price based upon tile price
Easy to use with any tile set
Use size calculator to calculate number of tiles
If you want render exact mosaic, you must have images of tiles. There are some
basic tile sets included in installation, but only as single color images. You may
contact your tile vendor if they can deliver tile image set to you.


Each tile design you can create from any source image and any tile set (tile images).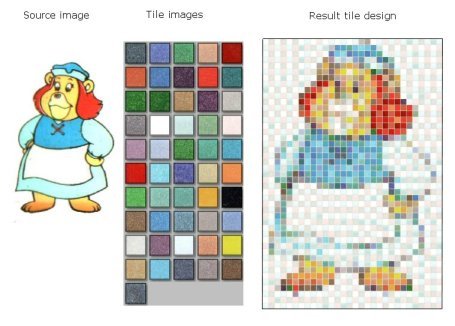 When mosaic rendering is finished, you can export file list and filling matrix. Filling matrix is CSV file, which can be viewed and printed in MS Excel or similar software. Each cell in filling matrix includes number of tile. Number is visible in list of tiles.
This is sample of pool bottom.
You can start basic tile price calculation. You can see how many times are each tile used and preview basic estimated price. You can set basic price value for one tile and set of tiles. When you don't like to see some tiles, you may remove it and render again. If tiles are packed only in packages and usage of some tile is low, you can remove it to, if you need optimize estimated price. You can use automatic optimize function too.