Mosaic Creator download free trial version
Professional photo mosaic software
Free download - Mosaic Creator software
Try to create your first photo mosaic
Mosaic Creator is shareware with 30 days trial period. Output image file size is limited to 20 MB in the trial version.
Unregistered software superimposes the name of the program onto the bottom-left corner of the images. If you plan to continue using the program after that period, you must register.
For more information see Purchasing & registering help
MS Windows 7/8/10/11
Minimum 2 GB RAM
30 MB disk space for program and additional files
Minimum 500 MB storage for rendered result images
Download cell image sets to start experiments with Mosaic Creator
Cell image collection 1 – CD covers​
1220 images of CD covers (Size 1668 kB)
Cell image collection 2 – bird stamps
2900 images of bird stamps (Size 7772 kB)
Cell image collection 3 – classical paintings
970 classical paintings (Size 2109 kB)
Cell image collection 4 – beer coasters
1290 images of beer coasters (Size 3304 kB)
Mosaic Creator additional mosaic patterns
Pattern shapes for registered users ZIP archive is password protected.
If you register Mosaic Creator, password to decrypt content of ZIP archive will be displayed.
Additional mosaic pattern shapes
Additional pattern shapes for registered users
(Size 128 kB)
Additional free mosaic patterns
Additional free patterns from Ken Childress
9 Best websites with free high-quality images
If you're in need of high-quality images for your photo mosaic projects, but you don't want to spend a lot of money, there are many websites that offer royalty-free images for free download. Here is a list of 9 of the best sites for finding royalty-free images:
Easily Create Stunning Mosaic Designs with Mosaic Creator
Are you looking for a unique and creative way to display your photos? Look no further than Mosaic Creator!
Our software allows you to transform a collection of your favorite pictures into a stunning mosaic image that is sure to impress.
With Mosaic Creator, you can choose from a variety of templates or create your own custom arrangement. The software is easy to use, with a user-friendly interface that guides you through the process step by step. Plus, you can save your mosaic in a variety of sizes and resolutions, making it perfect for printing or sharing digitally.
But that's not all – Mosaic Creator is also a great tool for businesses. Use it to create promotional materials or unique marketing campaigns that stand out from the crowd. You can even have your mosaic printed on a canvas or other medium to create a one-of-a-kind display for your business.
Mosaic Creator version history
Mosaic Creator ver. 3.5
added option to select color compare function
added seamless mode – create seamless texture
added horizontal only random position option
fixed grid editor mouse clicks for large grids
added seamless cell image rendering


Mosaic Creator ver. 3.4

added detailed export of mosaic (use in other apps like Blender)
added image based cell size control
added cell image modification (mirror, rotate, crop)
added load cell images as palette image file
added tweaks options after mosaic render
added source image as prioritization image
added automatic cell resize to mosaic size limit in trial and Lite version
added new patterns
added new tile images
fixed force use cell images and random filling options


 
Mosaic Creator ver. 3.3
rendering performance improved – in-memory rendering
new mosaic rendering preview
added option ignore black cell images
added option skip black cell images
added option skip black source parts
added option skip white source parts
added HD Video resolutions support
added Standard video frame rates
added Video rendering progress bar
added option relative colorize
added option adaptive colorize
fixed Delete mosaic if stop used during rendering
fixed Reset source corrections on new source load
fixed Correct output dir for filling matrix
fixed if rendering videomosaic dont save undo for each frame
Mosaic Creator ver. 3.2
added options to crop cell images from top, middle or bottom
added option compress pattern – control distance of cells
added option to control stretch limit for cell images
added option for background – last rendered image
added saving filling grid and cell groups in mosaic definition file
added batch slice tool
added batch rename tool based on image aspect ratio
added batch remove border tool
added batch create multiresolution images
added option to create border as resize of cell
added support for grayscale patterns
added new options to force use all cell images
added predefined paper sizes for mosaic size calculator
added mosaic priority mask
added option to control rendering priority for mosaic with mask image
added option to control colorization for mosaic
added support for many different image file formats
speed-up image render with complex patterns and large mosaics
corrected shadow render over image background
changed selection of mosaic type 
Mosaic Creator ver. 3.1
added render mode selection – buttons and content popup menu
added option to control filling process – auto, center, random and more
added dithering options for source image – 6+ dithering types (recommended for tile mosaics)
added non-integer distance limit – ready to experiment with tile mosaics
added cropping for source image
added gradient selector as source image (ready for tile gradient mosaics)
minor speed enhancements
Mosaic Creator ver. 3.00
added mosaic size calculator
added transparency option for alpha mask
added font option for HTML ASCII art
added source image processing – sharpen, saturation, contrast, brightness, gamma, RGB
added cell image processing – sharpen, saturation, contrast, brightness, gamma
added filling grid – cell groups (max 5 cell groups), zoom
added enhanced reports – filling matrix, price list – exportable to PDF, and more
added new option – size of export filling matrix
added basic undo/redo feature – for each rendered settings with fast preview (optionable)
added displays printing size when cell size and number of cells changed
added file association for .mos (mosaic definition) and mot. files (mosaic template)
changed option force use each cell image
hidden registration number
Mosaic Creator ver. 2.98
added option – cell image comments as file names
Mosaic Creator ver. 2.95
added option – shutdown computer after finished render
render mosaics greater than 2 GB – PNG and TIFF file formats (limited)
render mosaics – multipart (option for number of parts) for extra large output size
added random cell offset
added random gap size
added cell rotate – uniform, random or predefined math functions
added new patterns
added rotate and gap options in video render mode
added force first cell images in sequence in video render mode
added option – export delimiter
minor optimization
changes in rendering
Mosaic Creator ver. 2.9
service release
minor optimization
render bug fixing (minor rounding problems)
minor visual changes (main menu)
Mosaic Creator ver. 2.82
new option – force use each cell image, requested from users but not recommended 🙂
when used, mosaics can be rendered not in high quality
Mosaic Creator ver. 2.81
new option – each mosaic saved to new file, don't overwrite previous images
speed-up loading image list
Mosaic Creator ver. 2.8
ability render and prepare mosaics from physical tiles (glass, ceramics, stones)
added calculation of used cells
minor speed enhancements
added grayscale output option
added display cell ID in mosaic
added display CSV filling matrix
added visible source image in filling matrix
added support for render mosaics with text + many new options
added filling grid images
added grout images
added tile sets
added image button sets for thumbnail navigation
added size mosaic calculator for tiled mosaics
added font size option on thumbnail
added new wizard for all types of mosaics (many new options), four steps and render
added shadow options
added option to control pattern cell gap
added support for multilanguage interface, now we need translators only 🙂
added color schemes for thumbnails
Mosaic Creator ver. 2.65
added HTML codepage selection
added half-portrait and half-landscape size in thumb wizard
added EXIF details for detail thumbnail image
Mosaic Creator ver. 2.6
changed border compare calculation
added multiple page thumbnails
added JPEG compression option in thumbnail wizard
added output thumbnail file name combobox
added watermarking (text and image/logo)
added auto removing file name duplicates in cell image list
added footer property
added borders for thumbnail images
Mosaic Creator ver. 2.5
fixed errors on background rendering filled with image
added thumbnail wizard link in main menu and toolbar
added rendering sequence window
added rendering sequence to JPG files
added rendering sequence to AVI file, AVI file properties dialog
added rendering 3 options for sequence rendering frame to frame
added command line support for rendering *.mos file
added force cell images – render with limited image set
changed border compare calculation
Mosaic Creator ver. 2.4
filling matrix – define filling cells, load from image
Mosaic Creator ver. 2.35
preview of wizard thumbnail templates
added new thumbnail templates
Mosaic Creator ver. 2.3
crop cell images to cell size – avoid cell image deformations
automatic cropping cell images in thumbnail wizard
JPG output file type used in thumbnail wizard
Mosaic Creator ver. 2.2
 support multiple color masks
added color masks images
added thumbnail templates
comments for thumbnail images and position options
thumbnail image destination directory option
relative paths used for thumbnail images
text output for cell image matrix
Mosaic Creator ver. 2.01
Service release
added thumbnail templates
Extraordinary capabilities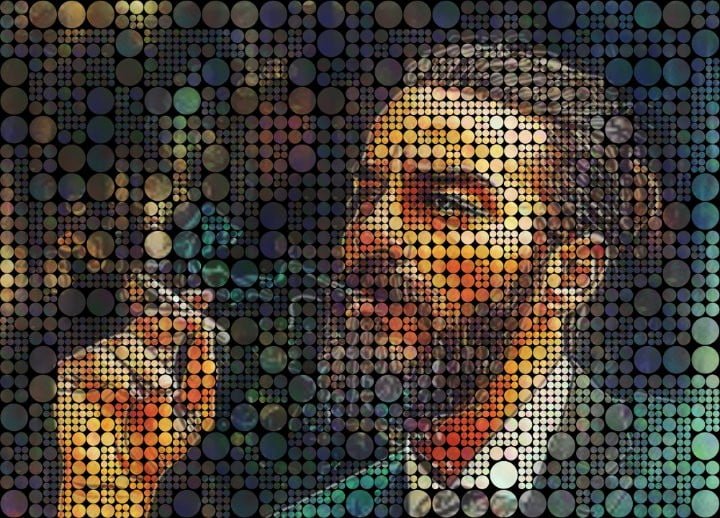 Get Started With
Mosaic Creator Today
Create your unique photo mosaics in 5 minutes