Stereogram Explorer - Make own stereogram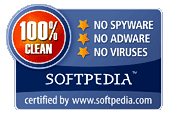 Stereogram Explorer is a user-friendly design software for creating stereograms - hidden 3D graphics, also known as Single Image Random Dot Stereograms (SIRDS) or Single Image Stereograms (SIS) known from the "Magic Eye" series.
Make your own stereograms easy from 3D models or depth maps.
Stereogram Explorer uses advanced algorithms and can render animations from 3DS models. Unregistered software superimposes the name of the program onto the upper-left corner of the images. If you want to see some stereograms, go to the gallery or download Stereogram Screensaver.