How to make a Photo Mosaic from a Logo easy
Turn company logo to a photo mosaic
Is there any option to promote the company in a special human way?

One of the options is to prepare a customized company logo poster.
How to turn a logo into a photo mosaic using employee or customer pictures?
This article describes a few simple steps on how to generate a photo mosaic for a company logo.
1. Step - Download and install the Mosaic Creator
Mosaic Creator installation for MS Windows takes 2 minutes.
The free trial version allows you to test the functionality of the application.
2. Step - Load your Logo picture
Open Mosaic Creator, close the Wizard window and select your logo file.
The main mosaic picture is named as the source image.
Click Select button and choose your logo image file.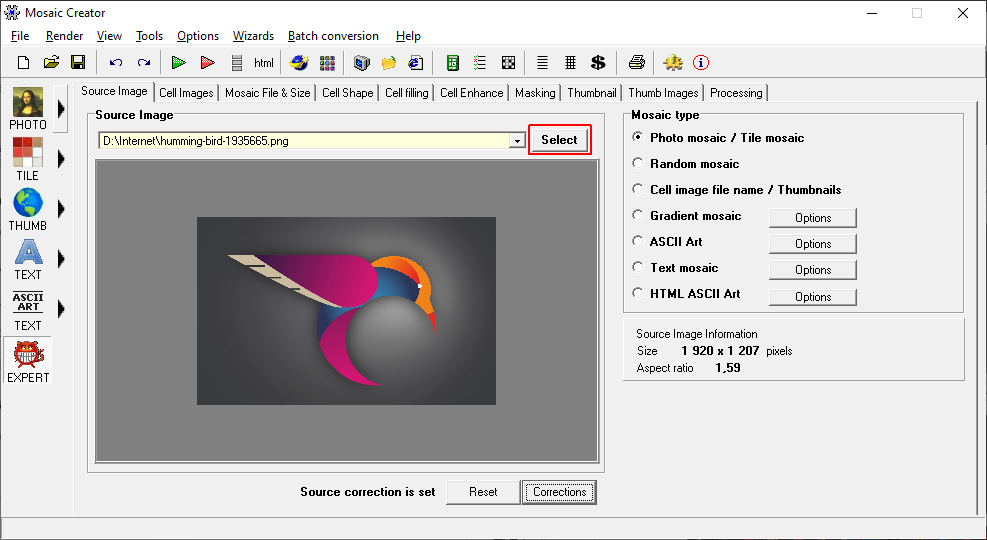 3. Step - Load pictures for mosaic
Click the second tab Cell images and Select directory with your pictures.
You can use any pictures. For mosaic from the logo are good images of employees or clients.
Click Add Dir button to select directory with images or click Add files button to select images individually.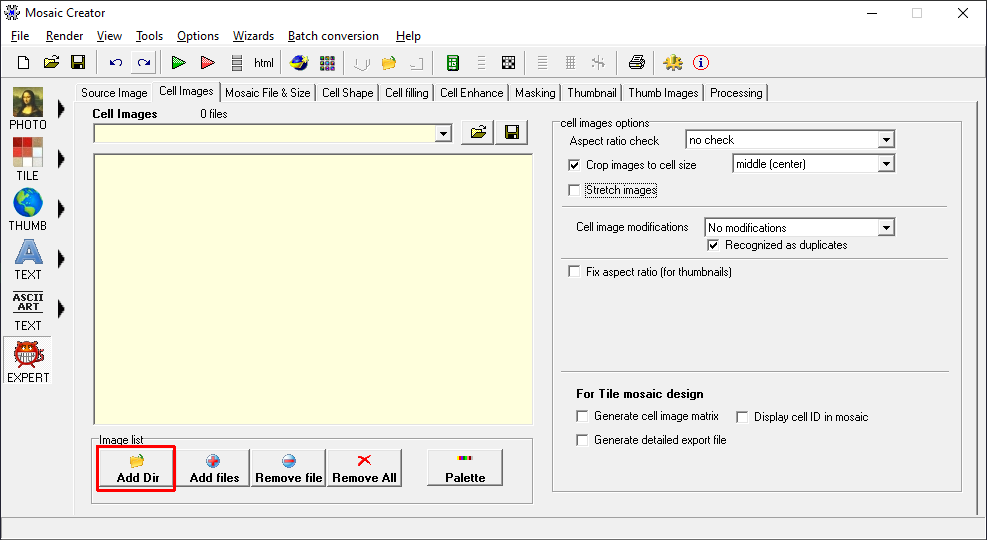 4. Step - Set the size of mosaic
Click the third tab Mosaic File & Size.
You can set the size of the mosaic if you want different settings as default.

Cell Count X is number of images in row, Cell Count Y is number of images in column.
Cell Width is size of tile width in pixels, Cell Height is size of tile height in pixels.
You can click Fix aspect ratio button to correct number of cells for your source image.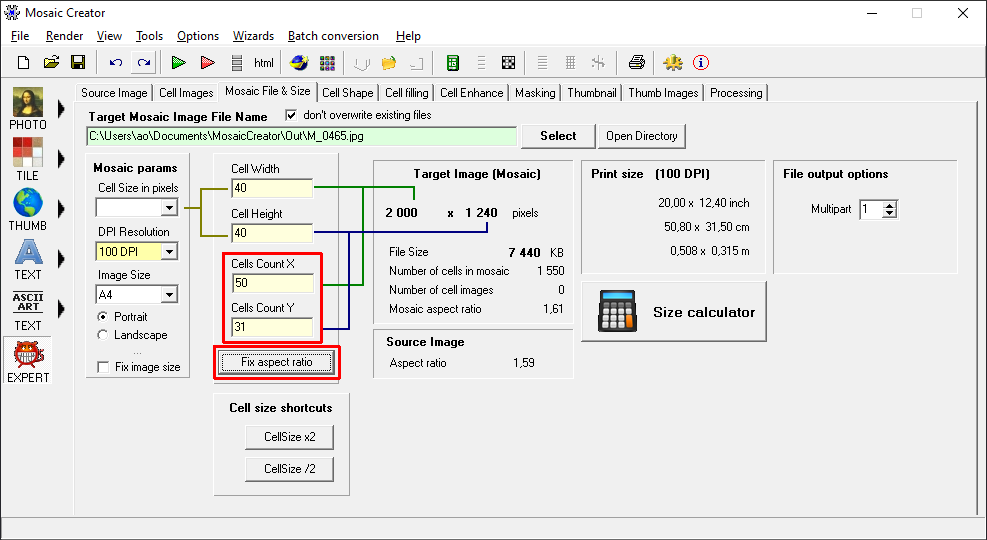 5. Step - Render your Logo photo mosaic
Click the green play button in the top toolbar to generate your photo mosaic.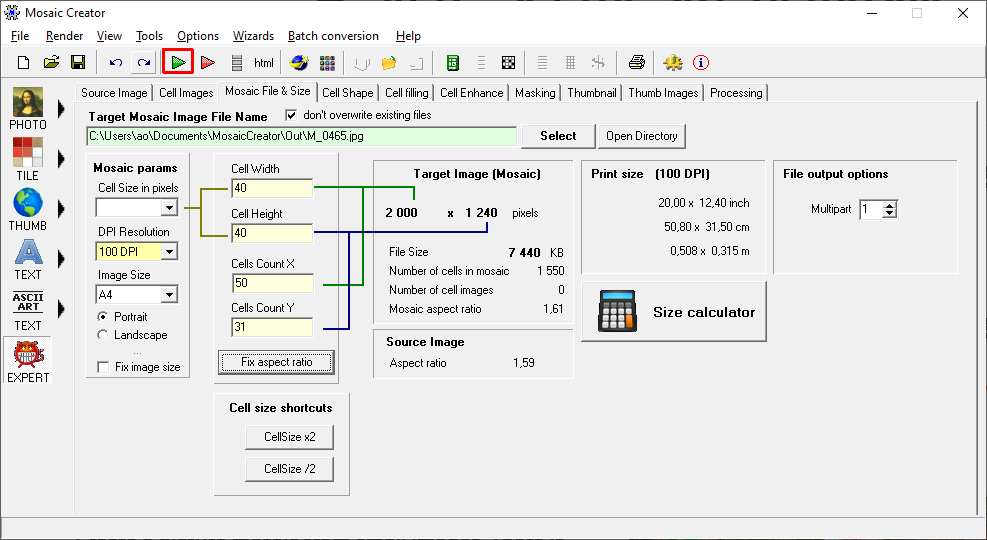 6. Step - Display your result mosaic
When the photo mosaic render is finished, the image is saved to disk.
You can open it in any image viewer or graphics editor.
Small preview of your photo mosaic is visible Mosaic generating window.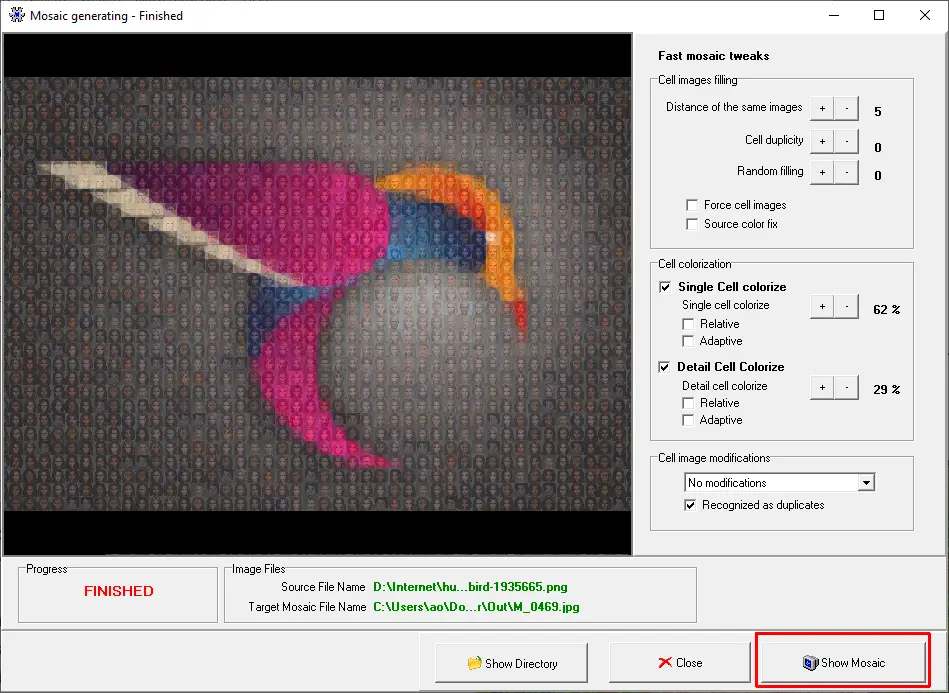 You can tweak your mosaic settings, change mosaic resolution and improve color enhancements.
Change color enhancements
Click tab Cell enhance and change values for single and detail cell colorization.
If you want to display more details of the logo, increase detail cell colorize.
If you want to display more details for images in mosaic, decrease detail cell colorize.
Render mosaic again.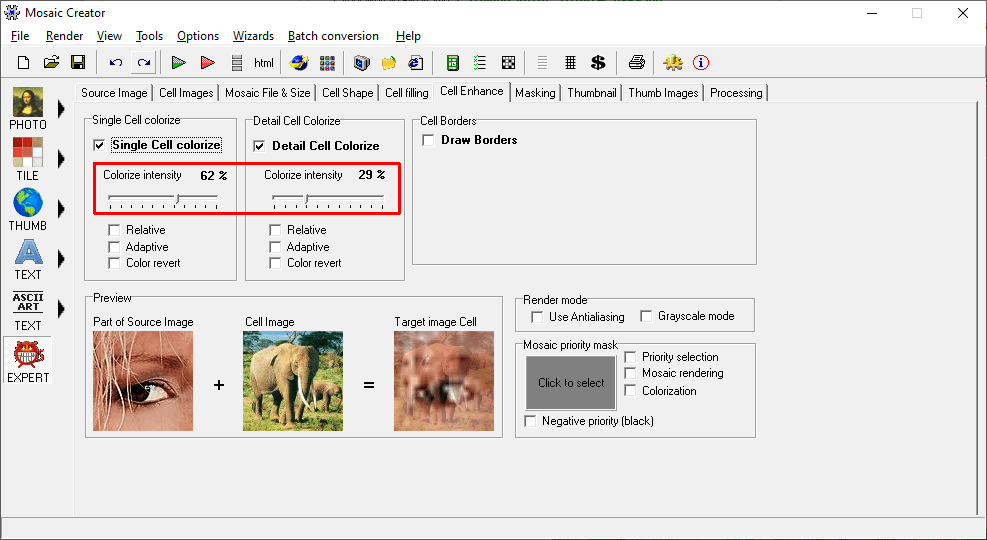 For some types of Logos it may be better to use some other than a standard rectangle/square pattern.
Click tab Cell shape and select other patterns from the list. Then render mosaic again.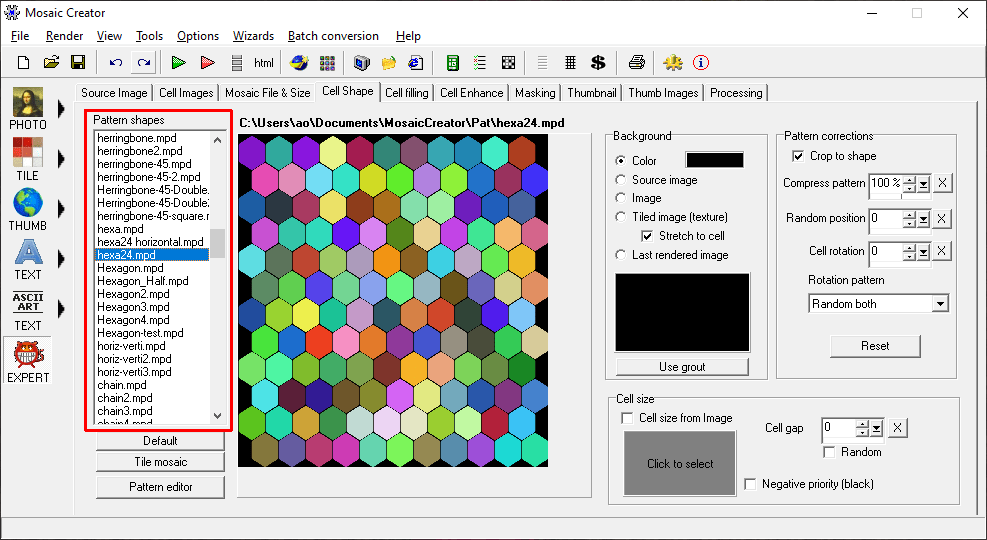 Square and hexagon logo photo mosaic comparison
Use visual undo/redo feature
You can use visual undo/redo buttons in the top toolbar to easily change the last configurations of your photo mosaic.
If you stay with the mouse cursor on undo/redo button, you will see a preview of rendered mosaic.

Create multi-size tile photo mosaic
How can I create mosaic from logo?
You need image of logo and photos or any images and software to make picture mosaics.
With the more images, you can get a more detailed logo photo mosaic.
How to use photo mosaic from logo?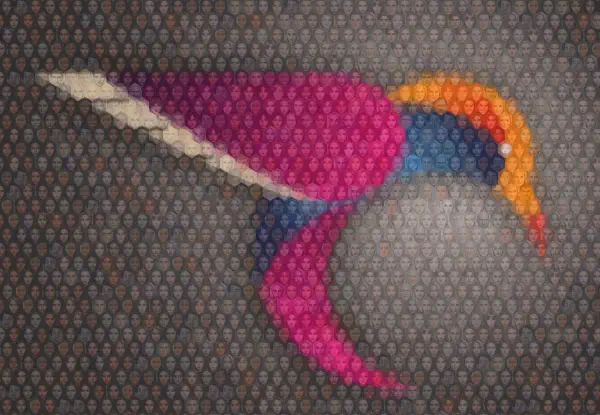 Print photo mosaic


Print picture mosaic as any other photo on the paper and hang it on the wall.
Bigger is better. Photo paper print is better than a print on fabric.
Publish photo mosaic online

There are many online services for publishing high-resolution images:
Another way is to publish high-resolution images on your website.
A good starting point is a few hundred pictures, better is a few thousand of pictures. More important than numbers is the content of pictures. Pictures with many details are not as good as pictures with fewer details like portraits. If you don't have these pictures, you can crop existing pictures into multiple new pictures.

Do I need large pictures?
No, you can use any pictures in a resolution greater than 600×600 pixels, it is the picture resolution of every legacy digital camera.  All-new cameras including smartphones produce good picture quality for picture mosaics. You can use smaller images too, but then you need to use more tiles in a mosaic.
The Most Advanced photo mosaic software
Download and try to create your own photo mosaic
Mosaic Creator is shareware with 30 days trial period. Output image file size is limited to 20 MB in the trial version.
Unregistered software superimposes the name of the program onto the bottom-left corner of the images. If you plan to continue using the program after that period, you must register.
For more information see Purchasing & registering help
MS Windows 7/8/10
Minimum 2 GB RAM
30 MB disk space for program and additional files
Minimum 500 MB storage for rendered result images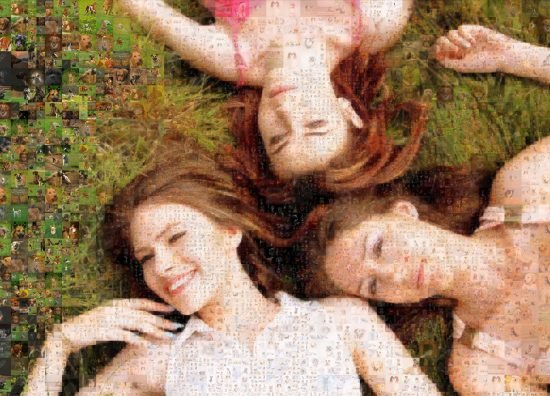 Create your picture mosaic Today
Create your unique photo mosaics in 5 minutes