Random color mosaic
Category:
Required software
:
Mosaic Creator
Type
: Mosaic template
Difficulty:
Beginner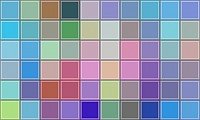 Create random color mosaic.
Just download mosaic definition file and load it into Mosaic Creator.
Go to page Mosaic File & Size and set size of cell and number of cells as you need. If you want another shape as square, you can select any other shape on page Cell Shape.